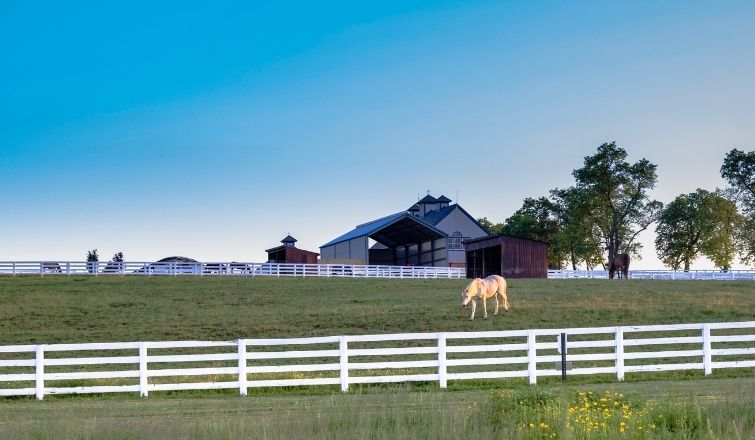 Buying vs Building a Horse Farm
If you're trying to decide between building a brand new farm or buying an existing equestrian property, there are a few things that you should first consider. Continue reading to learn more about buying vs building a horse farm.
Consider Your Needs
Whether you build or buy will largely depend upon what you intend to use the property for.
Consider how many horses will be living on the premises; how many stalls will you need? How many tack rooms will you need? Are there enough paddocks on the property? Is a large indoor arena a must-have, or can you make do with an outdoor ring? Will you need a large parking lot that can accommodate many trucks, cars, and trailers, or will a small lot for parking suffice? How important to you is the barn's layout; can you adjust to a layout that someone else designed, or do you need to ensure that things are laid out exactly how you like them? These are just a few examples of things that you will need to consider.
If you're buying an existing farm, ensure that you have a firm grasp of your needs and wants for the property. If the farm you are interested in does not meet your needs, you'll have to ensure that you can renovate as needed. This means checking up on zoning laws and making sure that your budget will support what you want to add or change around the farm.
If you are building your farm from the ground up, you will have the opportunity to include all of the amenities and features you want – but it's essential to keep your budget in mind. If full customization of your horse farm is important to you and you don't mind not leaving any expense spared, building from scratch may be the best option for you.
Consider Your Budget
Of course, your budget for the project will be one of the most critical factors in your decision to build or buy.
Building a farm from the ground up can be pretty expensive, so purchasing an existing facility is usually the best way to get the most bang for your buck. If you can make do with what you have, for the time being, you'll likely find that it is much more economical to purchase an existing facility. Over time, you'll have the opportunity to make renovations and additions as needed or wanted.
When starting from scratch, you'll have the ability to design the farm of your dreams, but it's essential to keep in mind that it's likely that you will spend a pretty penny building everything from the ground up.
Moving forward with the information that you have learned here, you will have a solid idea of what to expect while considering buying vs building a horse farm.
For more informative equestrian blog posts, check out our blog.
For more information about Stablebuzz stable management software, click here.