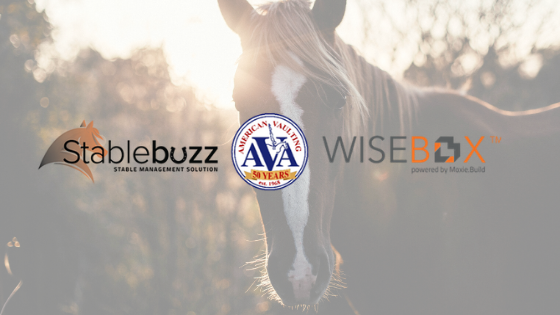 Chilliwack Based Wisebox Solutions Partners with the American Vaulting Association to Move Equestrian Industry Forward with Stablebuzz
Chilliwack Based Wisebox Solutions Partners with the American Vaulting Association to Move Equestrian Industry Forward with Stablebuzz
Chilliwack, British Columbia, August 12, 2019 – Chilliwack based Wisebox Solutions, who recently launched the stable management software Stablebuzz, is proud to partner with a non-profit organization, American Vaulting Association (AVA). With an aligned passion for seeing growth and supporting the equestrian business industry, both organizations thrive towards a bigger and better equestrian industry.
Stablebuzz exists to preserve and grow equestrian business for future generations by providing innovative solutions that cut admin overhead by 50% and increase customer retention by 30%. Wisebox Solutions has been serving North American equestrian organizations for the past 25 years, starting with a competition scoring software and expanding to membership management to cover all aspects of equestrian non-profit technology needs.
"It's got great features, especially their free release form management tool", one customer commented regarding Stablebuzz stable management software, "it's the perfect alternative to a dozen storage boxes full of paper copies of release forms." Other stable owners have also shown excitement regarding other key features such as scheduling, managing their expenses, invoicing, surveys, and reporting. One of the more popular reports is the cost of use per hour report for each horse in a lesson program that helps stables to better asses their pricing.
The AVA has been supporting the equestrian vaulting community since 1968. Providing training, facilitating international relations, and publishing insightful vaulting articles through their Vaulting World magazine. The organization has played a significant role in North America's equestrian industry having an impact on the equestrian business beyond the discipline of vaulting itself.
"The AVA has a long history of determined dedication to grow equestrian business in the USA; helping to foster over 400 clubs throughout the country. We are proud of Wisebox's recent work to modernize the AVA's membership management system, and we are excited to now integrate our new competition management, scoring, and results system. The membership system and the competition system will be tightly integrated with Stablebuzz to ensure a seamless experience that saves clubs valuable time and provides them with the modern toolset needed to grow the sport of vaulting to the next level." stated Colin Schmidt, CEO of Wisebox Solutions.
Katherine Ray, President of the AVA commented that "the AVA is excited about this new partnership! We feel this new venture will propel us into the future – with the full backing of the AVA Executive Board and AVA Board of Directors – it will be exciting to see all the changes!"
General Secretary of AVA, Jen Williams, also states "Wisebox Solutions delivers the perfect mix of technical excellence and industry insight to help the AVA better serve our members. Wisebox's technical offerings are responsive to the AVA's most pressing current needs while providing scope to extend our member offerings in the future."
For more information on Stablebuzz or to stay up to date on app features, we encourage you to visit www.stablebuzz.com
About Wisebox Solutions:
Wisebox, as a leading tech company, has over 25 years of experience in providing software management solutions to clients such as Horse Council BC, Cheval Quebec, and VaultCanada. Its latest stable management software, Stablebuzz, is set to increase profitability and help preserve equestrian sports for future generations.
About the American Vaulting Association:
Founded in 1968, AVA has more than 1,200 members in the United States and America and provides educational vaulting materials and information. Publisher of vaulting news and articles through Vaulting World magazine, AVA conducts the annual AVA National Championship as it continues to provide insightful resources through videos, DVDs, and books to its members.